---
Bio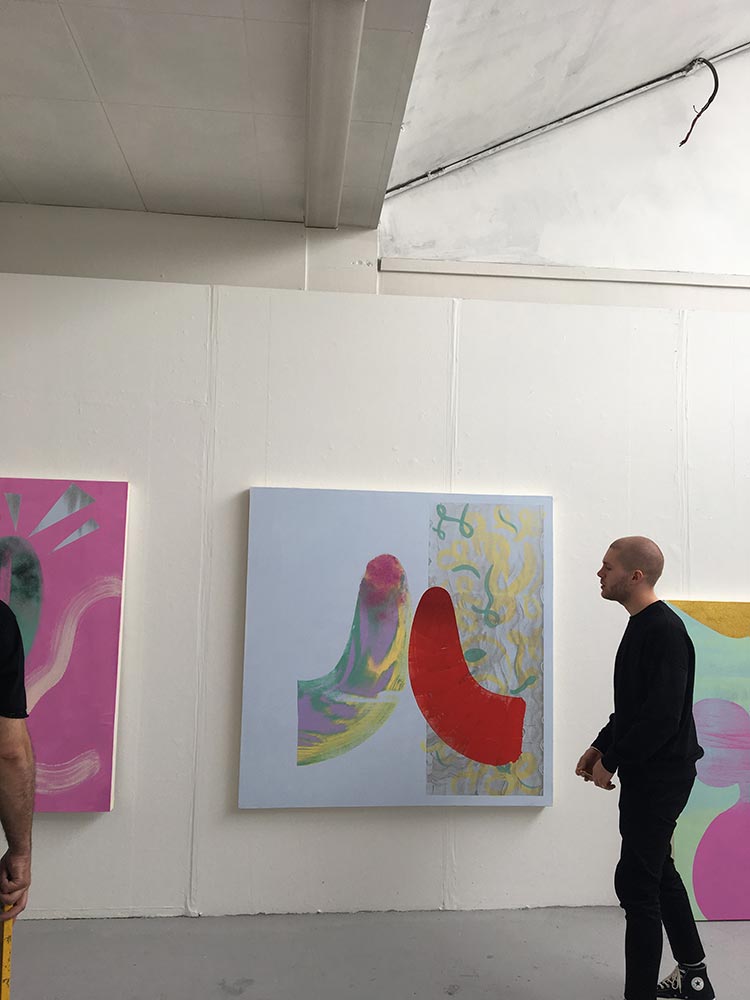 ARTIST | CURATOR
Lives and works in Brighton.
Artist Statement
My practice is concerned with the language of painting. My visual dialogue is about this relationship and how it asserts itself in the territory of abstraction. It employs various painting processes to investigate the broken conversation between signs, symbols and mark making. I work on canvas, paper, plastic and board. The iconography of my work borrows from symbols within culture and then represents the image through my instinctive gesture of sign. This use of iconography allows there to be a sense of the familiar within the representation of my abstraction. There is an ontological strategy that informs my work allowing the mode of my art to shift between the organic and mechanical procedures in painting.
My work investigates the cultural framework of Fashionable Art and its value in contemporary aesthetics. It discusses the discourse between the creative disciplines while inhabiting the territory of abstraction and aesthetics. Unpacking the discussion around abstraction is highly complex in the cultural framework of today. However, within my practice, making abstraction is a way of interpreting and understanding the world that imagery is situated in.
Education

2017 B.A. (Hons) Fine Art Painting, University of Brighton.
2013 Btec Level 3 Foundation Art and Design, Brighton City College, Awarded Distinction.

Group Exhibitions

2017 'Fashioning the Frame', University of Brighton Edward Street, Brighton. Group Show, Curated By DUKEVALANTINE, Johnnie Valantine And Cameron Duke
2016 'Stretch', University of Brighton Gallery, Brighton. Group Show with peer group, curated by Johnnie Valantine and Victoria Suvoroff
2015 'Lewes Depot', Lewes Depot, Lewes. Group Show with peer group.

Solo Exhibitions

2015 'Joyful Appropriation', Lipstick and Gunpowder, Brighton. Solo Show, Curated By Johnnie Valantine
Collaborative Work
I am a founder member of DUKEVALANTINE, set up in 2017 by Cameron Duke and myself. DUKEVALANTINE is Committee For The Visual Arts and curatorial team that set out to put on various exhibitions in Brighton. DUKE VALANTINE is Brighton's first contemporary run space for the Visual Arts. The committee is a varied group of artists dedicated to the promotion of the contemporary art scene within the institution and the wider audience of the city.
Grants and Awards
2016 University of Brighton Merit Scholarship